Helen's Hamster Pages

updated on the 31st December 2003
My pages to help you care for and learn about your pet hamster. There are pictures, FAQ's, escape techniques, the hamster language and ideas about why I think hamsters are so loveable.
Click here to enter Helen's Hamster Pages.
Deryni Fan Site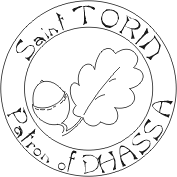 updated on the 30th January 2002
These are my fan pages about the fantasy/medieval Deryni books by Katherine Kurtz.
Click here to enter my Deryni Fan Site.
Feedback
My e-mail address has changed, you can send e-mail to me at "helen dot brinkworth at dhassa dot co dot uk" (just change the "dot" and the "at" to symbols and remove the spaces).